"Because I know things…"
*
The way the groom handles this boat of a limo
may be indicative of how he will handle his bride
Her face is lace, her smile looks unnatural
She's familiar, yeah,
We've seen her look sleepless like that,
Make-up does wonders
All the white that surrounds her
doesn't look very pure


dirty cotton / the woods / tight squeeze / hands grip the bouquet //
hands grip the wheel / forced laughter / we're late / it doesn't matter


The room holds its breath
as slate blue mother rises
to this glorious occasion
mumbling passive aggression
in the guise of a congratulatory toast
Fools, I have no words left!
I don't belong here
at this delicate table,
with your white china
and your suede seating!
Later, the bride is found sucking her thumb,
tights torn, wedding heels dangling
over the edge of a stack of extra chairs
because more people were expected
to witness this gross spectacle

**
Sisters beat horses,
try yoga,
try truth,
try horse racing,
try talking,
try planet gazing,
try moon-bathing,
try looking at what they don't want to,
try remembering,
try forgetting,
try soothing,
try staring into horses' eyes,
try listening,
try breathing,
try researching,
try breathing,
try compartmentalizing,
try breathing,
try to feign interest,
try to wear each others' star studded skin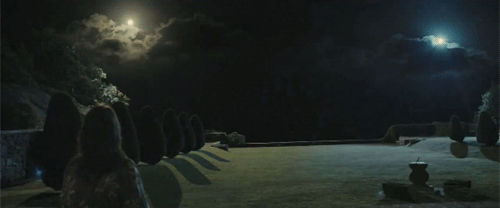 ***

In Act III
the scientist takes the coward's way out
& no one saw it coming
This is an opera of bad decisions,
of free for all,
because the end is nigh
Denial dialogue
skirts the edges of every scene
& if you listen closely you'll hear
all of the under-the-breath whispers
we know we're guilty of when we can't
look anyone in the eye when they ask us things

"Sometimes, I hate you, Justine…"

Justine honors the Earth & doesn't care about anyone's feelings
including her own
Justine has accepted & Justine knows
she's probably awful,
but speaks with a holy glow in her voice
Justine can't believe
her sister isn't thinking
about her son
Justine always believed
that she was the bad
& selfish one
(Claire's Inner Monologue)
I want to go peacefully,
sitting on the ground,
surrendering to the big blue,
the great green
I glance at your eyes,
they swirl with a mixture
of what they see,
wide open turquoise
I keep mine shut tight
I don't want to look
I don't want to see
the end of everything

****
In the final frame,
Justine is statuesque

Claire is
a shaking silhouette
Fin.


Note: This is an older poem from 2017. "Melancholia" is one of my favorite films ever and because I watched it again last night, I decided to share it.